The advantages of purchasing and using professional PowerPoint templates are quite clear: Use a beautiful set of pre-designed slides instead of designing your own from scratch. Without question, this approach has the potential to save your time and hard-earned cash.
Or does it?
Understand that not all professional PowerPoint templates are created equal. Furthermore, not all of the "presentation designers" who created them have similar goals of quality, compliance, and customer-support in mind.
Anyone (and I mean anyone) can design a presentation template and sell it on the internet, and that should frighten you
But calm your nerves, I'm here to help.
In this post, I'm going to go over the various things you should look out for the next time you're inclined to purchase a template. I'm even going to give you ways to fight back against the madness. If you really want to become an informed buyer, then be sure to read this post in its entirety.
Impractical PowerPoint Templates
Have you ever bought something only to be disappointed when it doesn't even work as advertised? Chances are you have, and you should know that you could experience that same disappointment with Professional PowerPoint templates.
Take this slide for example.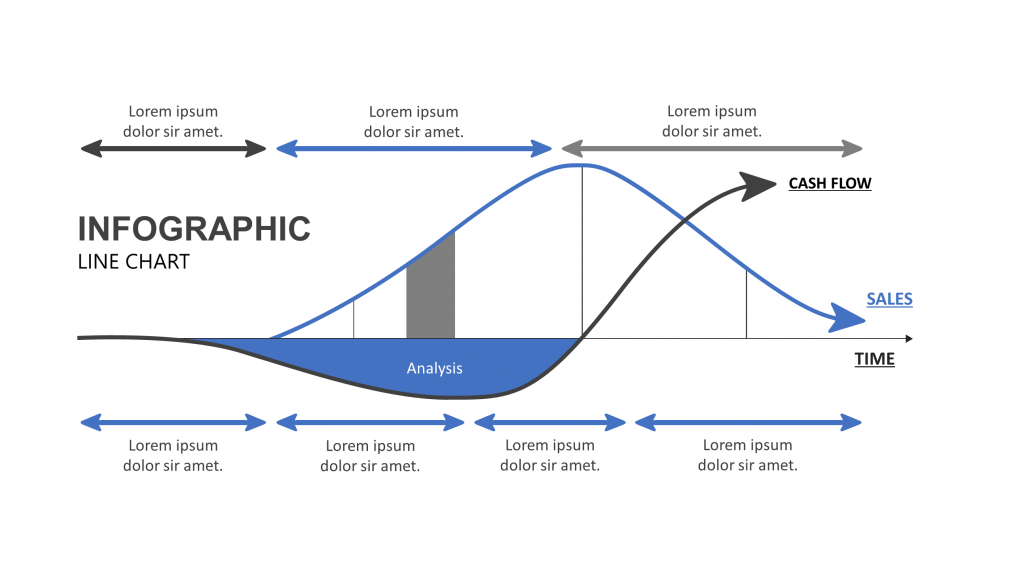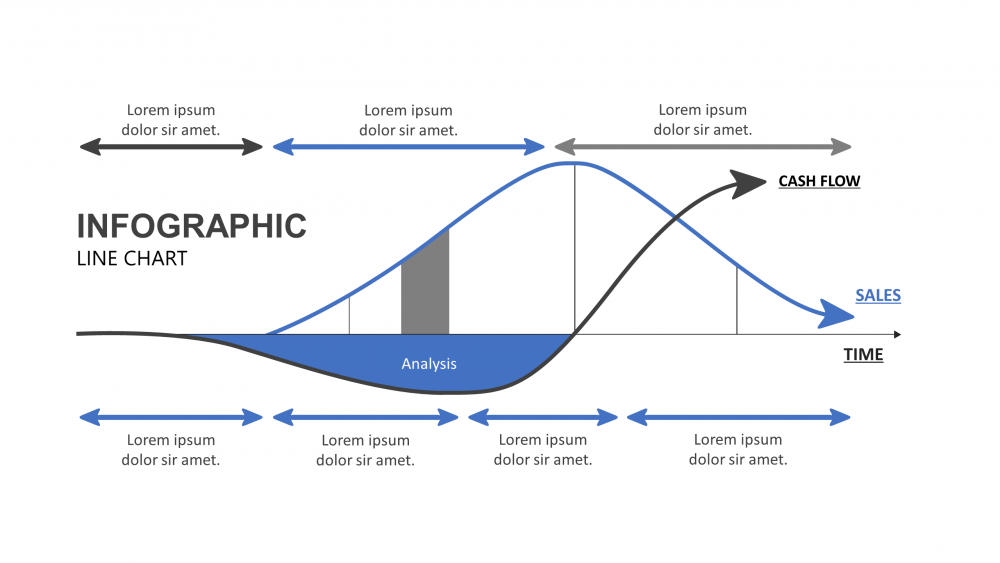 This slide was part of a deck that I purchased a while ago. I love the way it takes a new approach to data visualization, don't you?
At the time, I thought it could bring some of the charts I had to present to another level. I had to have it, so I purchased and downloaded the template on the spot.
Imagine my surprise when I noticed that the entire line chart wasn't even a chart at all. The "chart" in this professional Powerpoint template is just an infographic composed of different shapes.
You know what that means, right?
I couldn't edit a damn thing.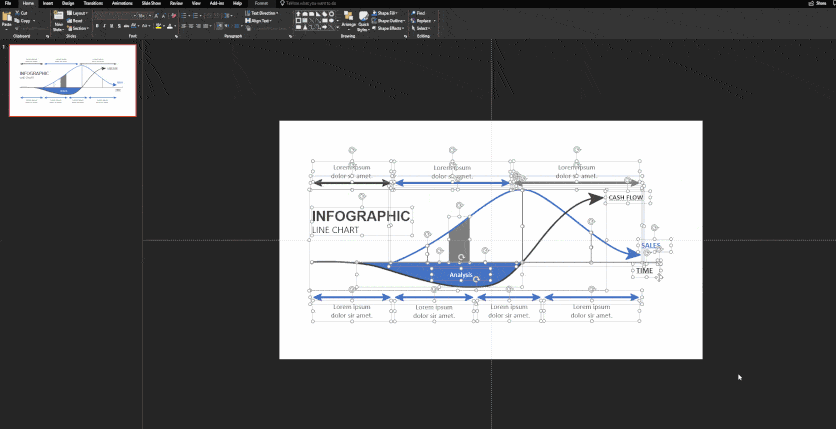 The whole slide is just for show, and I found no practical use for it in any of my presentations.
The struggle doesn't even end there. This same template contains infographics that are based on uneditable pictures, making some other slides uneditable too.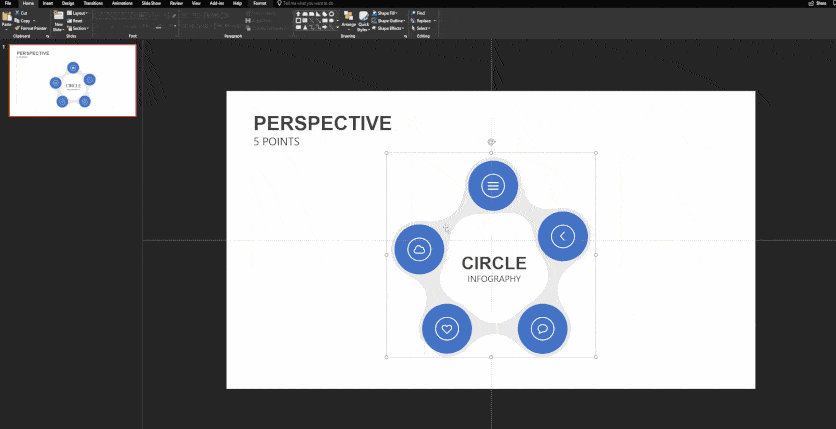 I don't like playing the name-and-shame game, so I won't call out this template, nor the seller I purchased it from. After all, some of the slides in the deck were usable, just not the ones I wanted.
But I do think you should know that I bought this professional PowerPoint template from a very popular digital marketplace, which only added salt to the wound. Big brands should protect us from stuff like this, shouldn't they?
Steps you should take to combat this: do your homework and look for presentation designers that promote the practical uses of their templates. For example, when the Slide Cow team designed the Strive PowerPoint template, we made sure that everything is 100% editable.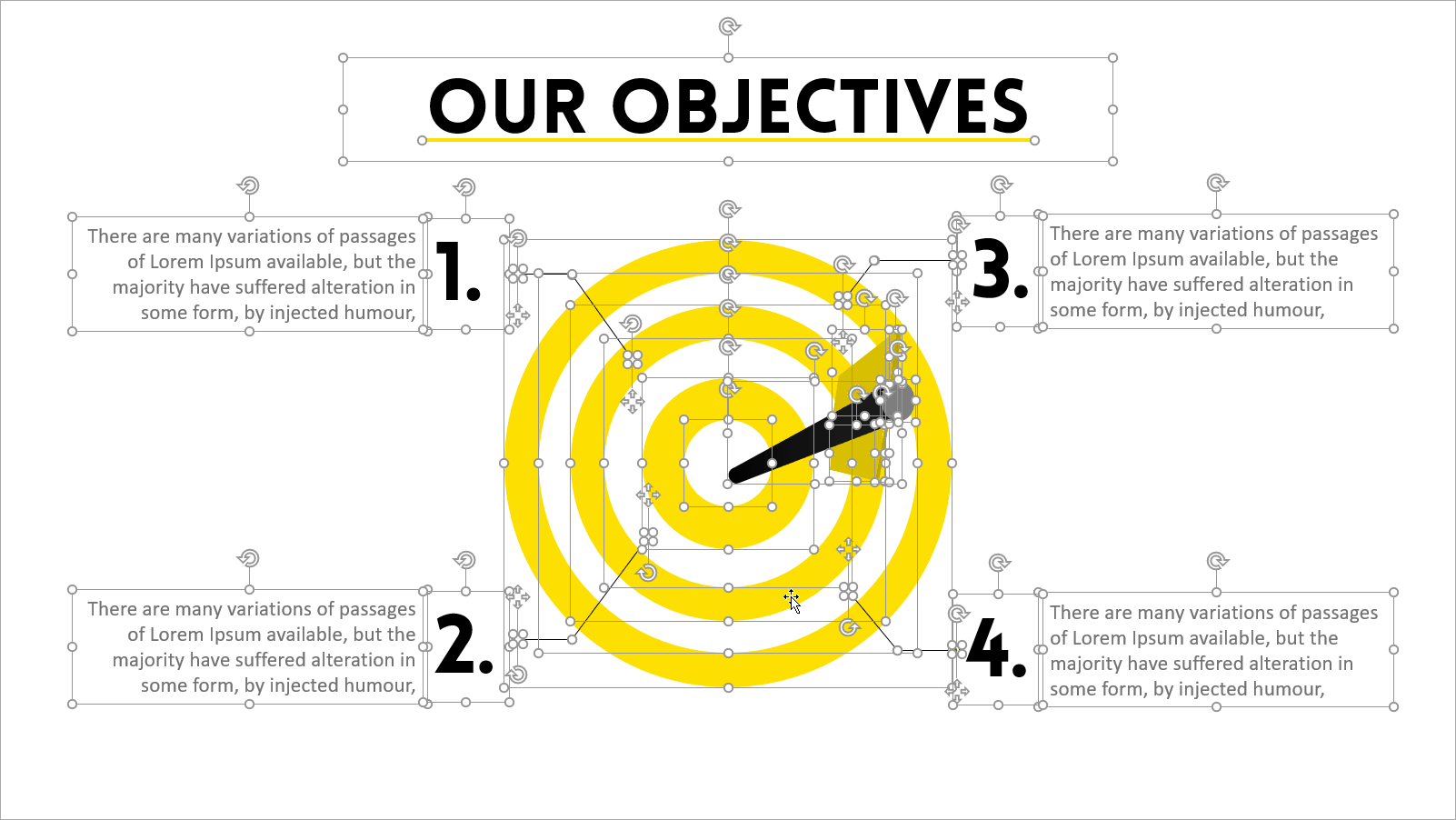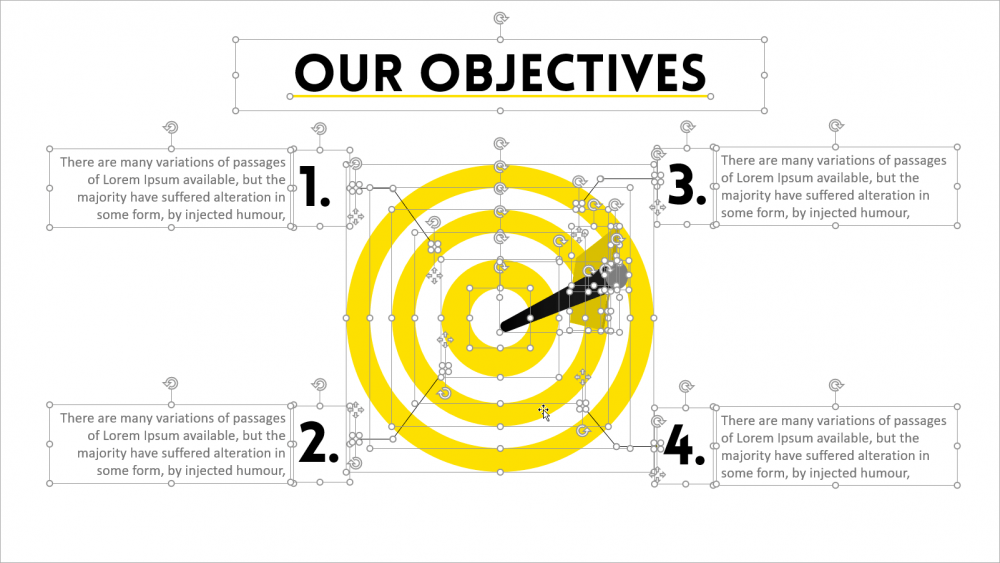 Slide Bloating
Some presentation designers come off like sleazy used-car salesmen. Desperate for a quick buck, they use shady sales tactics to try and lure potential prospects in order to close the sale. One of those tactics is slide bloating.
Slide bloating is the act of making multiple variations of the same slide in a Professional PowerPoint template. The end goal is to shove in as many slides as possible into the end product, and then boast a huge total number of slides to potential customers.
Here's an experience you can learn from: I recently came accross a PowerPoint template that was for sale; the seller boasted 1,000 slides in total. Again, I'm not going to mention the name of this template, nor the person who created it.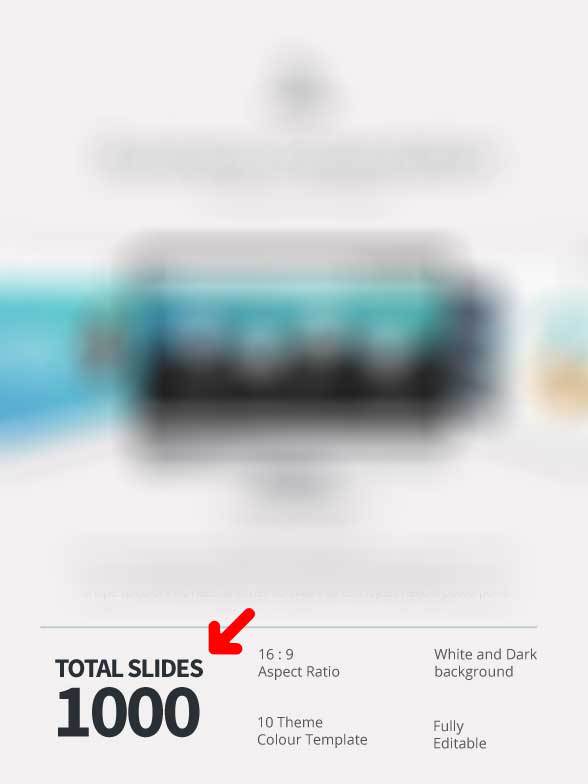 The price of the template is under $20, so this sounds like a fantastic deal, right?
Nope.
As it turns out, this template was only made up of 100 unique slides. The other 900? They're just simple variations.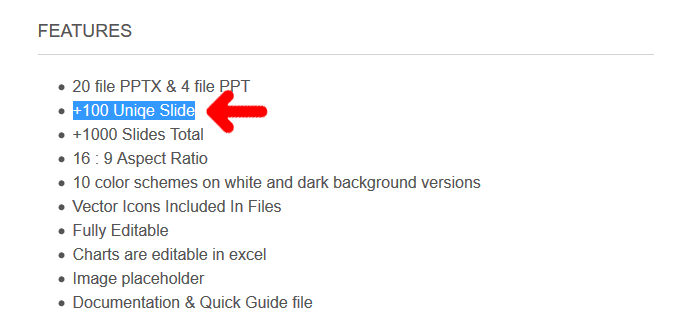 It's not like the variations are even valuable. All the designer did was change the 100 unique slides into different color schemes. 100 unique slides multiplied by 10 color schemes equals to 1,000 slides in total.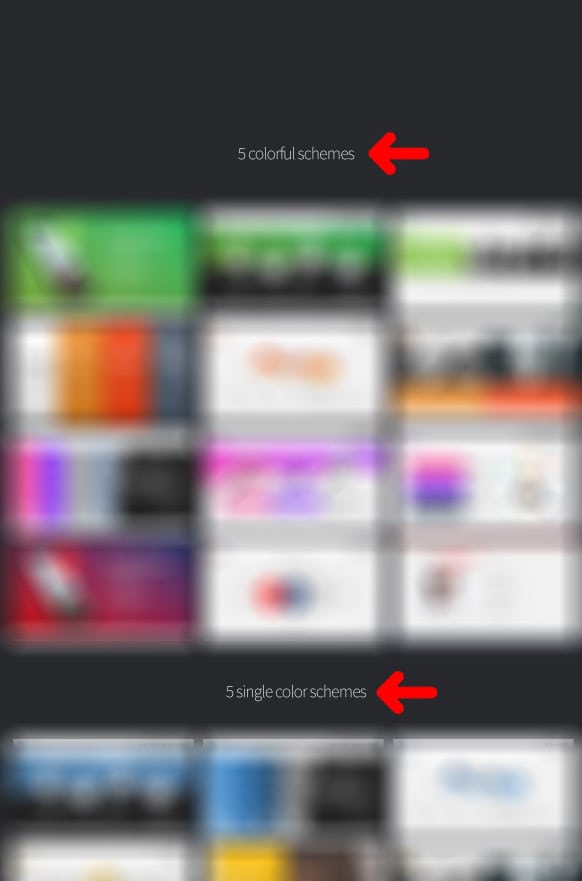 It's all just a little sketchy, don't you think?
Steps you should take to combat this: don't hit that buy button until you did your due diligence. If the seller boasts a crazy number of slides, then make sure that those slides are unique. Take the time to look through the template in full and make sure that the slides match the advertisement.
One thing to note: A large number of slides doesn't always mean you're getting more bang for your buck. Slide Cow's Business Casual PowerPoint template is a perfect example of this.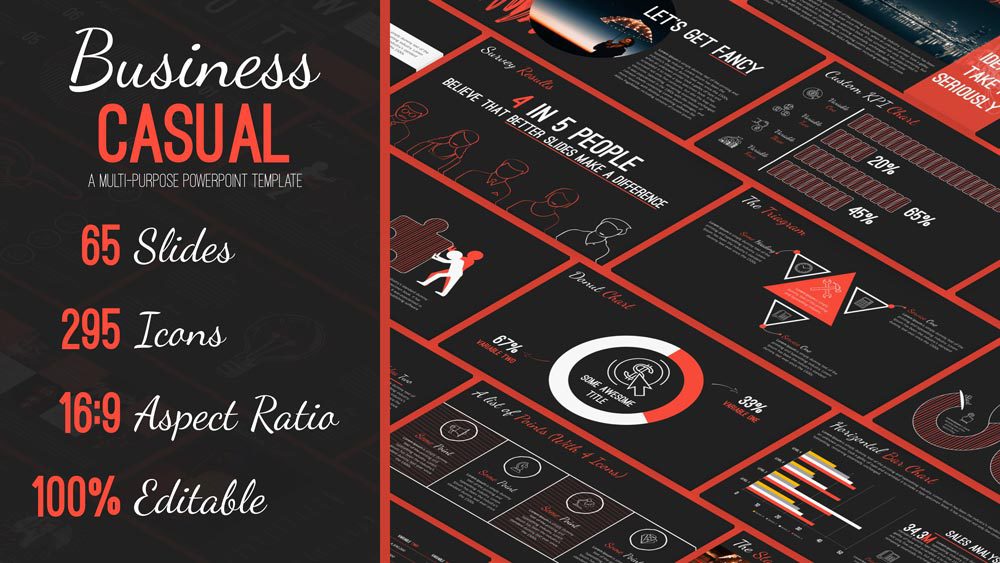 Business Casual only contains 65 slides, but it's one of our best sellers!
Awful After-Sales Support
Here's a story I think you'd enjoy. In 2014, I purchased a beautiful PowerPoint template. It was breath-taking, and I loved how all the visuals just popped right out of the screen.
One slide contained a mouth-watering bar chart. At the time, I thought it would be the perfect slide to use for an upcoming presentation I had.
There was only one problem, though: Whenever I tried to edit the bar chart, a critical error came up and forced PowerPoint to crash.

I kept my cool and emailed the seller to ask for his input on what to do. A week went by with no response, so I emailed him again. Another week went by with no answer, so I emailed him a third time. At that point, I just gave up and forgot about it.
Three freaking months later, the seller sends me an email and tells me that "he's aware of the issue" and the "only way around it is to create another bar chart and not use the one in the PowerPoint template."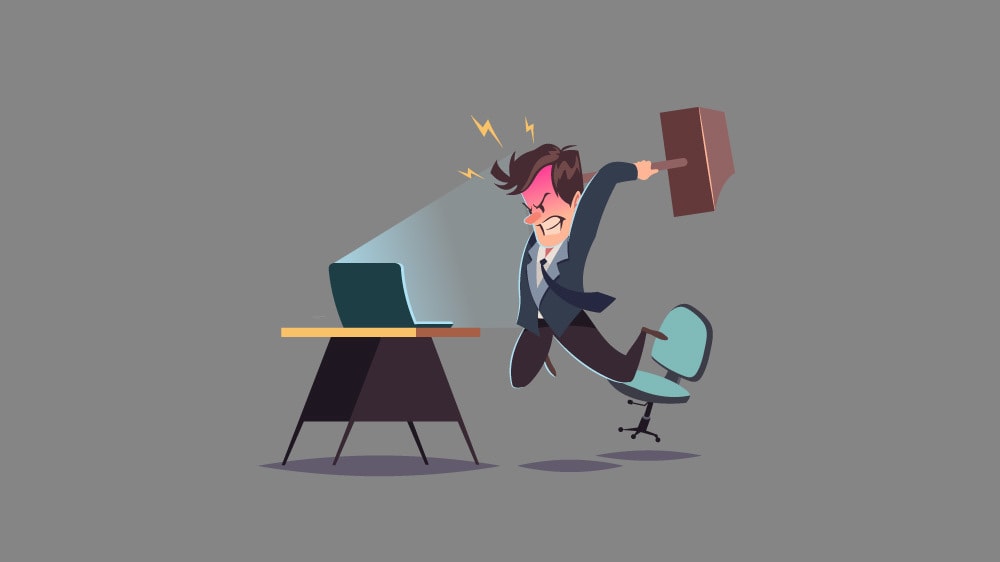 I was livid.
Not only did the seller not know how to solve my problem, but he told me to go off and find a solution on my own.
It just goes to show that poor after-sales support is on the rise. Few designers can ensure a response to your concerns. Some take days (or even weeks) to get back to you, with no guarantee that they could even solve your problem.
Steps you should take to combat this: do some investigative work and read about the designer who is selling you the professional PowerPoint template. Does he/she have an active web presence on social media or through a website? Can you quickly reach him/her in the event you have a problem? Get those questions answered before you purchase anything.
Weak Refund Policies
In 2014, comScore research highlighted that 66 percent of online shoppers review a seller's returns policy before making a purchase. This makes sense; customers want to feel protected when purchasing a product online. Professional PowerPoint templates are no exception to this principle, either.
Sadly, some template sellers want to go a different direction by posting less-than-effective refund policies.
I recently came across a website that exclusively sold professional PowerPoint templates. Most of the products offered looked quite good, but upon investigating the website's refund policy, I was extremely disappointed.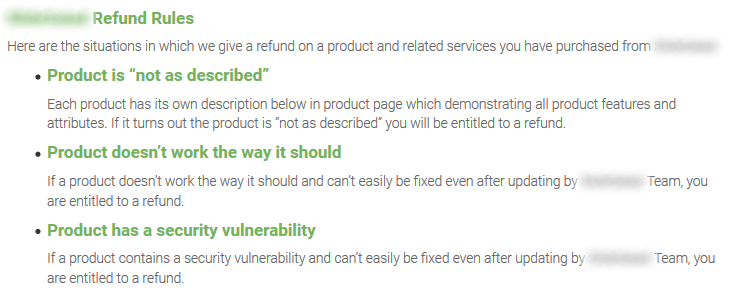 As the picture shows, the seller will only issue a refund if a buyer's needs meet specific criteria.
But it doesn't even end there.
The seller goes on to give reasons why potential customers would not be entitled to a refund.

I could not believe what I was reading. Not issuing a refund even if a customer bought a product by mistake? Not returning a customer's hard-earned cash even after the product gets removed?!
This sort of stuff infuriates me.
Value rules all, not cash. So why on earth would a seller insist on keeping a customer's money after purchasers explicitly state that the product was not valuable to them?
This is one of the reasons why Slide Cow has an awesome 30-day money back guarantee. If a Slide Cow customer wishes to return any product, for any reason, we will issue a refund without issues. Heck, we even pay for the processing fees.
Does this mean that Slide Cow loses money on every refund? Absolutely. But as Slide Cow's founder, I recognize that I'm accountable for the value of all the products on offer. If I did not do a good job communicating what a particular product could achieve and who it's for, then I need to bear the consequences and not the purchaser.
Steps you should take to combat this: Before ordering a professional PowerPoint template, research the seller's refund policy and make sure you feel right about it. Don't skim over it. Read it word-for-word. If you're skeptical, then don't take the risk and find another a seller that is more aligned with your interests.
The Low-Down on Professional PowerPoint Templates
I'm not trying to give premium PowerPoint templates a bad rep. There's bound to be an excellent experience for every bad one out there. But I've seen countless purchasers left defeated when they buy something that did not live up to their expectations. So as a humble request, please use this post as a guide before proceeding to buy a template.
Finally, to all the presentation designers reading this and are already typing up their hate mails to me, I encourage you to, at the very least, take the lessons learned from this post and apply them to you. As designers, we have a right to make sure our customers are happy with everything we give them.
What's Your Experience Like?
Have you ever had an experience that resonates with this post? We want to know! Drop a line in the comments section at the bottom of this page.