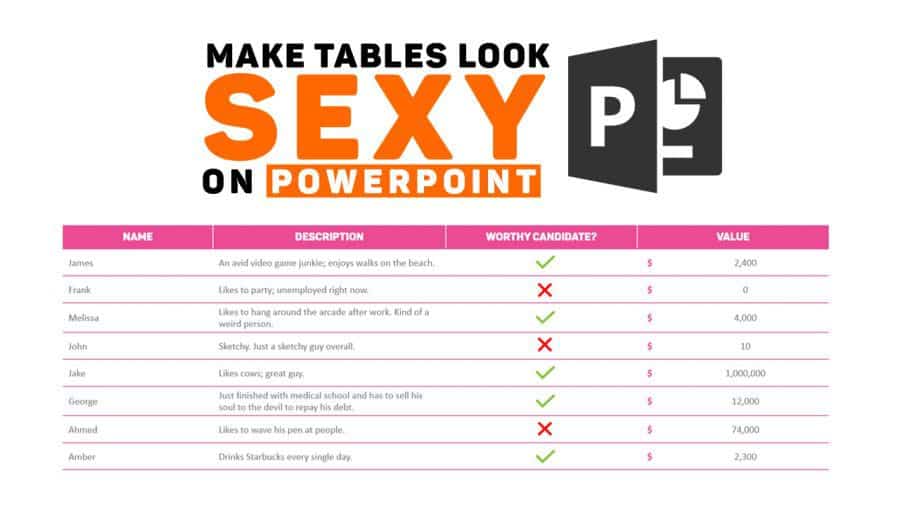 Today's PowerPoint tables just don't cut it concerning that steamy 'wow' factor. So I thought it would be a good idea for us to learn just how to make a table look so sexy that your presentation audience would want to check them out twice.
What's wrong with the default PowerPoint tables?
Everything.
Everything is wrong with default PowerPoint tables. It's almost like the development team got together and said: "How can we make default tables look REALLY unappealing by today's design standards?"
I mean, just look at this.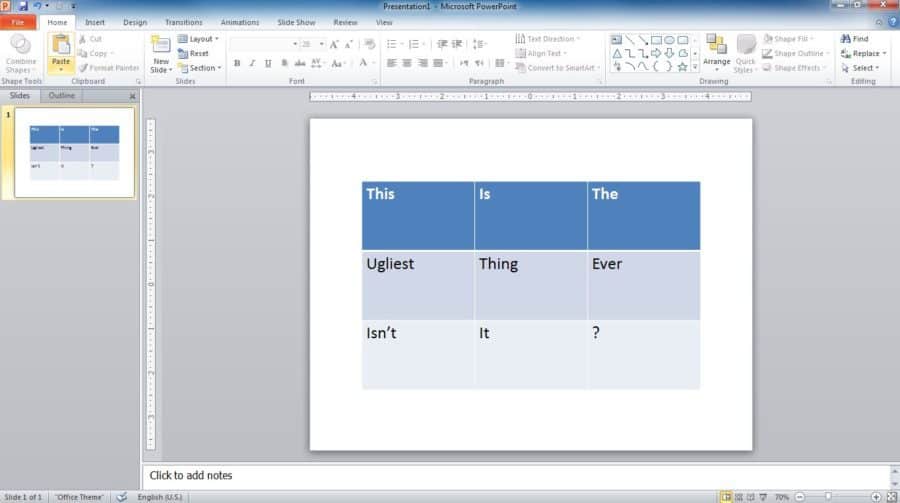 PowerPoint is an excellent piece of software, but the default designs and standard templates really don't do it justice. If you want your tables to look like a stack of legos that a four-year-old is proud of, then go ahead and use the default settings.
On the other hand, if you're like me, and want to make tables that make your audience go "HOLY CRAP HOW DID HE/SHE EVEN DO THAT?!" Then you might want to follow the video tutorial that I made just for you.
The PowerPoint Tutorial
Okay, yes, I sound a little too enthusiastic about this tutorial. But the knowledge you'll get is valuable! I promise.
What you're going to learn
A cool PowerPoint trick to make sure the size of your headers on your tables will never change.
How to make your headers stand out in PowerPoint.
How to fix up border colors and options in PowerPoint.
How to use icons in your tables.
How to consistently position key data components and variables.
Here's a little breakdown of the video
0:59 – Step 1: Add Another Element to Your Slide.
2:36 – Step 2: Separate the Header from the Data.
4:17 – Step 3: Make Some Design Changes to the Header Table.
5:15 – Step 4: Make Some Design Changes to the Data Table.
6:13 – Step 5: Fix Up the Borders.
8:59 – Step 6: Go the Extra Mile.